The Debian team has reached a significant milestone for the upcoming Debian 12 release.
For the last few months, Debian 12 has been under development. Developers and package maintainers were pouring their application components into the new branch. Code-named "bookworm", Debian 12 is planned for release by the end of 2023.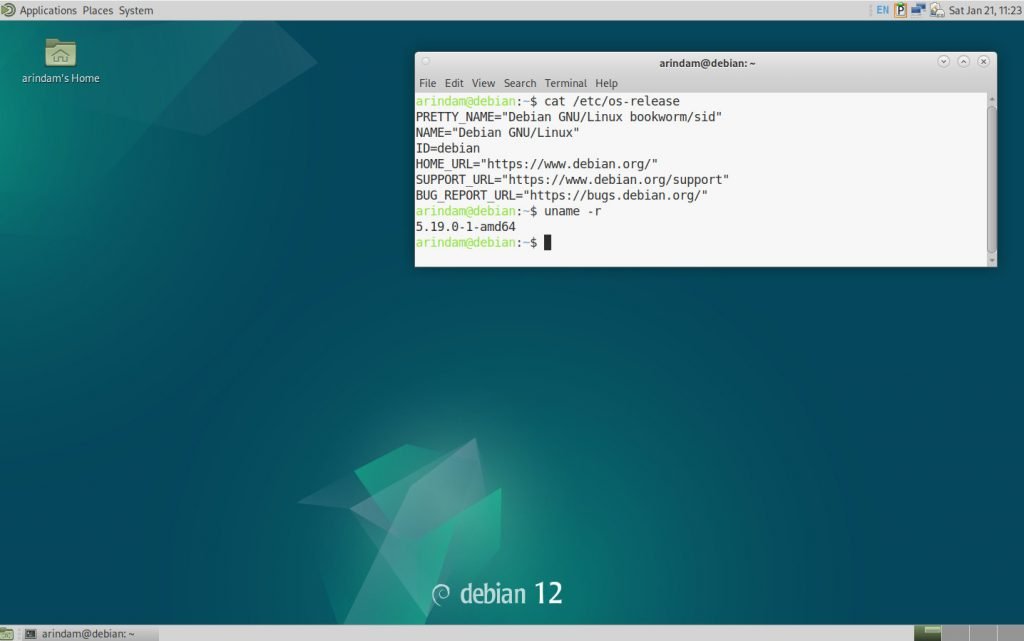 Debian 12 "bookworm" reaches the first freeze
Usually, the Debian project's freeze schedule goes for several months, including a soft freeze, a hard freeze and a full freeze before the final release. The first freeze milestone was completed on 12th January, so the team no longer accepts transition requests. At this stage, no one should upload any package which may contain impactful changes without approval.
Following this freeze, several upcoming milestones are to be met as follows.
2023-02-12 – Milestone 2 – Soft Freeze
no new packages, delayed migration
2023-03-12 – Milestone 3 – Hard Freeze – key packages and packages
without autopkgtests need a manual unblock for migration
TBA – Milestone 4 – Full Freeze
all packages need a manual unblock for migration
Let's take a look at the new features and packages.
Upcoming features
At the core, Debian 12 bookworm features Linux Kernel 5.19, which was released on August 2022. A significant version upgrade since Debian 11. And it's pretty recent and supports all the major manufacturers' modern hardware lineups (CPU, GPU, SoC). The current development version is Linux Kernel 6.2, which is just two versions behind considering the three/four months Kernel release cycle.
For the desktop Debian users, here is some good news. Most of the recent releases are planned for bookworm release. That includes the GNOME 43 series, which is the latest version at the moment.
Furthermore, you get KDE Plasma 5.26, LXQt 1.2, LXDE 11 and MATE 1.24 as their current stable releases.
Although Debian features all the popular desktop environments by default, the Xfce desktop is the most popular. The Xfce 4.18, released during Christmas 2022, is now part of the Debian 12 release. Thanks to the package maintainers, this release landed in testing within weeks of its release.
Here's a quick summary of the desktops and their versions:
GNOME 43
KDE Plasma 5.26
LXDE 11
LXQt 1.2
MATE 1.24
Xfce 4.18
Likewise, the application and significant toolchain stack also get the following versions as follows:
LibreOffice 7.4.4
Firefox 102.6 ESR
GIMP 2.10.32
OpenJDK 11.6
PHP 8.2
Python 3.10+
Samba 4.17
The above versions are currently in Debian testing in the bookworm branch. Critical packages, such as Python3, PHP, etc, would remain the same until the hard freeze. Others may get changed, but that depends on approvals and the release team's decision.
Upgrade
If you are running Debian 11 bullseye, you can open the /etc/apt/sources.list via any text editor and add the following lines. Make sure to verify the mirror URL and change the following command.
deb http://http.us.debian.org/debian bookworm main non-free contrib
deb http://security.debian.org/ bookworm/updates main contrib non-free
deb http://http.us.debian.org/debian sid main non-free contrib
After adding those, refresh the apt cache:
sudo apt update
And then, run the following to get the update.
sudo apt dist-upgrade
Fresh Download
If you want a new ISO file, refer to the following locations and choose daily-live or bookworm alpha ISO.
| | | | |
| --- | --- | --- | --- |
| Type | Type of image | Download | Choose if – |
| Non-free | full CD, DVD | cd-dvd (go to non-free directory) | If you want less effort and want Debian to just works with all supported hardware. |
| Non-free | full CD, DVD (LIVE) – separate desktop environment packages | cd-dvd-live (go to non-free directory) | If you want less effort and want Debian to just works, and want a LIVE system. LIVE system also offers a full installation as well |
Remember, it is under testing and don't perform the above upgrade commands in any production Debian server.
For more information about this freeze announcement and changelog, visit:
Using Mastodon? Follow us at floss.social/@debugpoint